Vision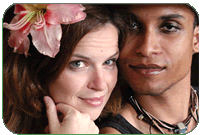 "We design funky eclectic gear for the discerning urbanite. By using a variety of different, media, gm™ creates fabulous, eye-catching pieces.



Diamonds will always remain a girl's best friend but gm™ is looking to fill the niche of the fashionista that craves accessories that don't overpower her or

her bank account. There is a modernity and pureness to our line that allows the downtown rocker and the uptown socialite to wear the same pieces but in two completely different ways."

Amanda Greene, C.E.O Girl Mischief





The Line

Derived from the elements of nature, the girl mischief™ line blends man-made mechanics with natural fibers and cloths. Amanda Greene, founder and creative director, drew upon the rich colors of her native Washington, DC in designing the line.

The hardware pieces Greene speaks of are an intricate part of girl mischief™. Working on the concept of "opposites coming together," the line juxtaposes metal hardware with the soft sensual aspects of leather and suede. Seeking to break away from traditional concepts of jewelry making, Greene sought out alternatives routine beadwork. She found her answer in the unlikeliest of places-the local hardware store. Finding inspiration in the linear lines and the precious metal patinas of the plumbing fixtures, Greene incorporated items such as bolts and fasteners into the line.

The headware part of the line continues the nature theme with exotic flowers, feathers and colorful butterflies. "I wanted playfulness with an edge." Each clip and headband is hand wrapped in satin ribbon creating fabulous texture.
The Autumn 2003 line continues the girl mischief™ tradition of producing hand-made one of a kind pieces for the urban hipster. Always stylish with a sense of modernity, girl mischief™ is proud to present its new line to the public.
Materials
Silver and hardware:


There is something about the coolness of metal when it first touches your skin that is simply fabulous. The use of hardware and silver in my pieces brings together basic function and fine detail. The shapes you can find in hardware give a unique edge that separates girl mischief™ from other jewelry.


Leather and Suede:



When creating the line, I needed the proper element to fuse with the hardware. It could not be too delicate or too strong that it would over power the metal. Leather was the natural choice, itís not only durable, itís also supple. It gives balance and warmth to the pieces. Leaving the leather and suede strands unfinished at the ends added yet another dimension as well as personality.


Flowers and Butterflies:


The way flowers and butterflies can uplift the spirt is truly amazing. When you notice either you tend the smile and appreciate there simple yet complex beauty. These were the perfect elements to use for the hair accessory portion of the line. By using colorful silk flowers and pliable bright butterflies in hair clips and headbands it simultaneously creates playfulness and drama.